Heli­um is a gate­way into the world of RF, or radio fre­quen­cy. While the eas­i­est thing to do when you get your hotspot is just plug it in and set it in a win­dow, most of the time you'll earn far more if you opti­mize a bit. Most of those opti­miza­tions are focused on improv­ing the RF sig­nal your hotspot can bea­con (also called "trans­mit­ting") as well as improv­ing the abil­i­ty of your hotspot to wit­ness (also called "receiv­ing".)
I'll assume you've read the piece on anten­nas I wrote that cov­ers some basics. Now, let's do a deep­er dive into anten­nas and radi­a­tion patterns.
Let's start with a zero gain omni anten­na. An omni direc­tion­al anten­na with zero gain will the­o­ret­i­cal­ly radi­ate RF ener­gy in a per­fect globe pat­tern all around it. Now, that's per­fec­tion. In real­i­ty, most low gain (say, 4 dBi or low­er) anten­nas will do a pret­ty good job, but will have gaps direct­ly above and below the antenna.
The way we "see" an anten­na's RF pat­tern is by visu­al­iz­ing what it looks like from the top and the side.
Here's a low­er gain (4 dBi) Bob­cat anten­na's RF pattern.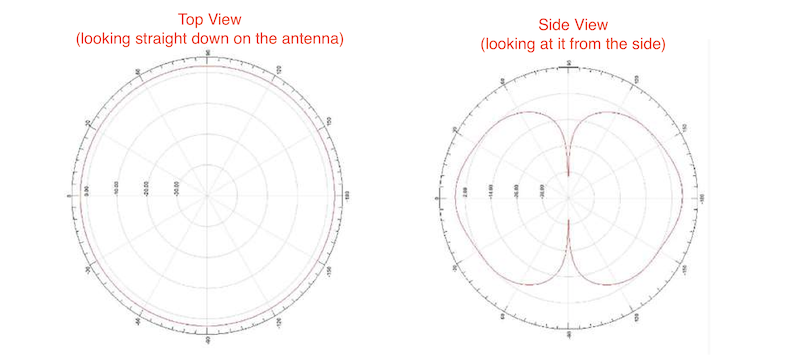 See how it radi­ates out even­ly in every direc­tion to the side, but direct­ly above and below it there are gaps in the RF emit­ted? That's pret­ty typ­i­cal for an omni direc­tion­al antenna.
Here's anoth­er exam­ple from the anten­na I use on most of my installs, the HNTen­na. MP Anten­na (the man­u­fac­tur­er of the HNTen­na), puts both pat­terns togeth­er. The Ele­va­tion is what it looks like when you're see­ing the anten­na from the side (red line) and the Azimuth is what it looks like from the top down (blue line).
All man­u­fac­tur­er's will have a radi­a­tion pat­tern for their anten­na, and most will share it with you. That pat­tern can change at dif­fer­ent fre­quen­cies on the same anten­na. Here's an exam­ple of a 3.0dBi L‑Com at dif­fer­ent frequencies.
Now, all the anten­nas so far look pret­ty sim­i­lar even at dif­fer­ent fre­quen­cies, right? They're all "omni direc­tion­al" anten­nas, mean­ing they're sup­posed to radi­ate anten­na in all (omni) direc­tions. What does it look like when you get a sec­tor (also called a direc­tion­al) anten­na? Check this out!
This anten­na was designed to radi­ate most of it's ener­gy in a ver­ti­cal beamwidth of 60 degrees and a hor­i­zon­tal beamwidth of 70 degrees. This is the anten­na you'd use if you were halfway up the side of a moun­tain, with super long views of civilization.
---
Antenna Polarization
Next up is anten­na polar­iza­tion. This has­n't got­ten much press, most­ly because damn near every anten­na you can buy is polar­ized *ver­ti­cal­ly*. In sim­ple terms, that means the RF waves it emit go up and down. A *hor­i­zon­tal­ly* polar­ized anten­na will emit RF waves that go side to side.
Why is that impor­tant? Well, if a ver­ti­cal­ly polar­ized anten­na and a hor­i­zon­tal­ly polar­ized anten­na are try­ing to bea­con or wit­ness each oth­er, they won't be able to, even if they're on the same fre­quen­cy! That's because the "up and down" waves of a VP anten­na won't inter­sect with the "side to side" waves of an HP antenna.
"OK Nik, so why should I care about this? If most of the anten­nas out there are ver­ti­cal­ly polar­ized, I'm fine, right?" Sort of.
See, when that radio ener­gy hits an obsta­cle, it usu­al­ly bounces off *and changes ori­en­ta­tion*. That means a ver­ti­cal­ly polar­ized wave can now be a hor­i­zon­tal­ly polar­ized one. If your hotspot is "lis­ten­ing" on a ver­ti­cal­ly polar­ized anten­na, it won't wit­ness RF sig­nals that are com­ing in on the hor­i­zon­tal plane, unless…
Here's the last twist for ya: You can get a "mul­ti" polar­ized anten­na. This allows you to both trans­mit and receive mul­ti­ple sig­nal ori­en­ta­tions. That comes at a cost of a slight reduc­tion in pow­er as the sig­nal is radi­at­ed out on mul­ti­ple planes, BUT…I've used a mul­ti-polar­ized anten­na and made 170km wit­ness­es, so it's not an issue in the real world application.
I'll fin­ish off with a quick way to think about what anten­na you should buy.
Indoor anten­na — Use the stock anten­na. Get it up as high in your build­ing as pos­si­ble and next to a win­dow. If you MUST buy an indoor anten­na, pick up the HNTen­na indoor version.
Out­door anten­na, urban area, lim­it­ed clear lines of sight — You've got a few options.
HNTen­na Out­door — This is a mul­ti-polar­ized anten­na and what I rec­om­mend for most place­ments. I don't get affil­i­ate com­mis­sions from that, I just like the antenna.
L‑Com 3 dBi — If you don't want to spend a bunch, try this one.
L‑Com 6 dBi — Deter­mined to get a high­er gain, but think­ing that 8 or 9 might be too high.
Out­door anten­na, clear line of sight — If you're des­per­ate for a "high gain" anten­na, try the same one used by the high­est earn­ing hotspot in Boston. It's cheap and does­n't test super well in the cham­ber, but works fine in real life.
Side of a moun­tain — Ok, you real­ly want this? Keep in mind, this anten­na will make you far less in earn­ings if you just throw it up on your house. But since you asked for it, here it is.
That's it! Now you know a bunch more about anten­na radi­a­tion pat­terns and how to choose the right one for you. Rock on!